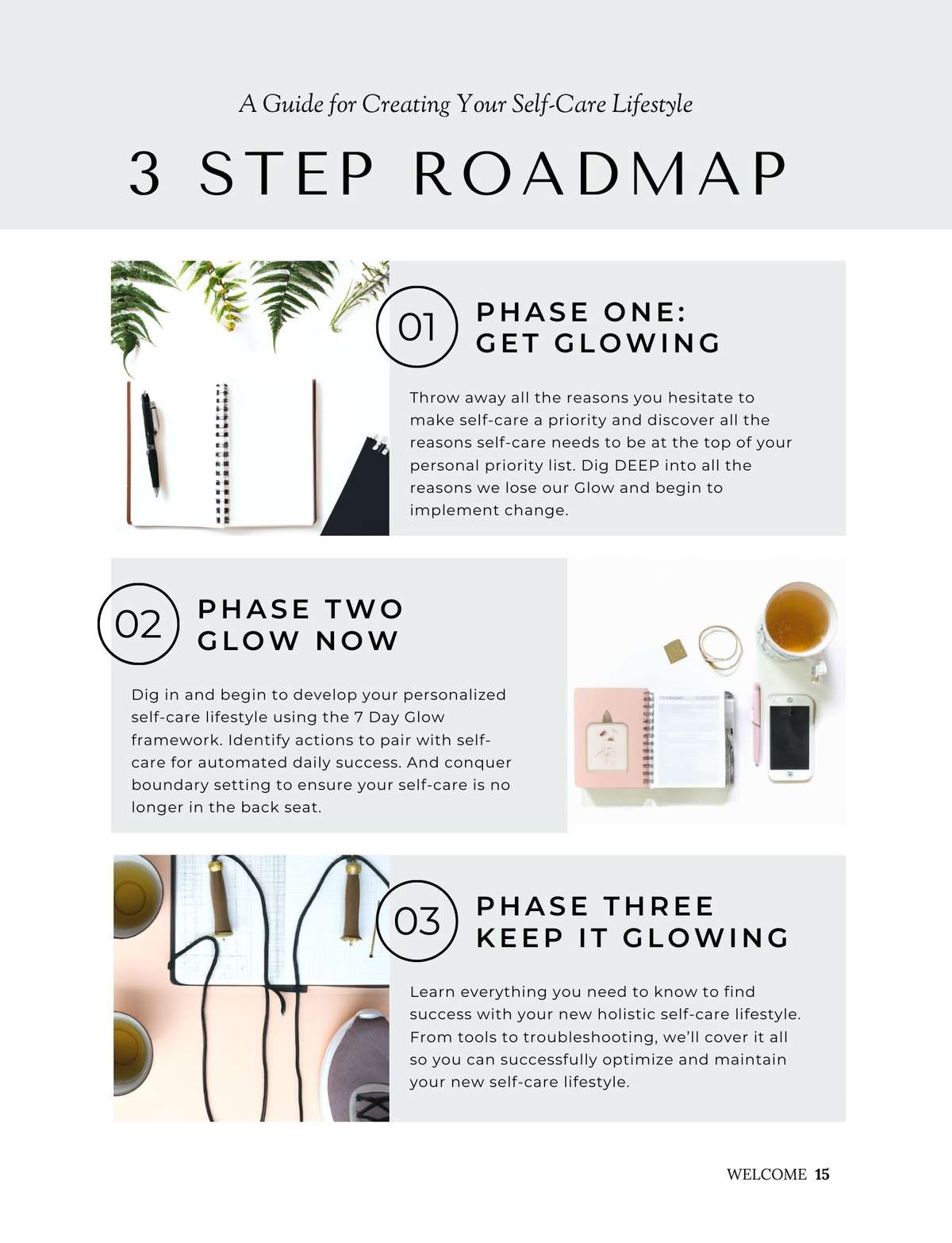 The 7 Day Glow Holistic Self-Care Workbook is divided into three phases to guide you to self-care success. Easy-to-follow workshop-style lessons give all the information you need to get glowing with self-care perfectly tailored to your busy lifestyle, 7 days a week.
Phase One: Get Glowing. Reframe your self-care mindset. Throw away all the reasons you hesitate to make self-care a priority and discover all the reasons self-care needs to be at the top of your personal priority list. Dig deep into why we lose our Glow and begin to implement change based on the foundations and elements of the 7 Day Glow holistic self-care lifestyle framework.

Phase Two: Glow Now. Develop your unique personalized self-care lifestyle. Identify actions to pair with self-care for automated daily success. Conquer boundary setting to ensure self-care is no longer in the back seat. Guided worksheets lead you step-by-step through the process of designing your unique self-care lifestyle and how to pair your current daily activities to self-care actions that work almost on auto-pilot.

Phase Three: Keep It Glowing. Learn everything you need to know to find continued success with your new holistic self-care lifestyle. From tools to troubleshooting, we'll cover it all so you can successfully optimize and maintain your new self-care lifestyle. Take your Glow further with tips for maintenance and deeper self-care discovery.

Move from inconsistent, one-off self-care activities that are simply self-care spot treatments to a glowing, holistic self-care lifestyle. Take steps to eliminate guilty "me-time" feelings that may be holding back your self-care. Identify situations and people who interfere with your self-care. Learn how to create firm boundaries around your self-care time.