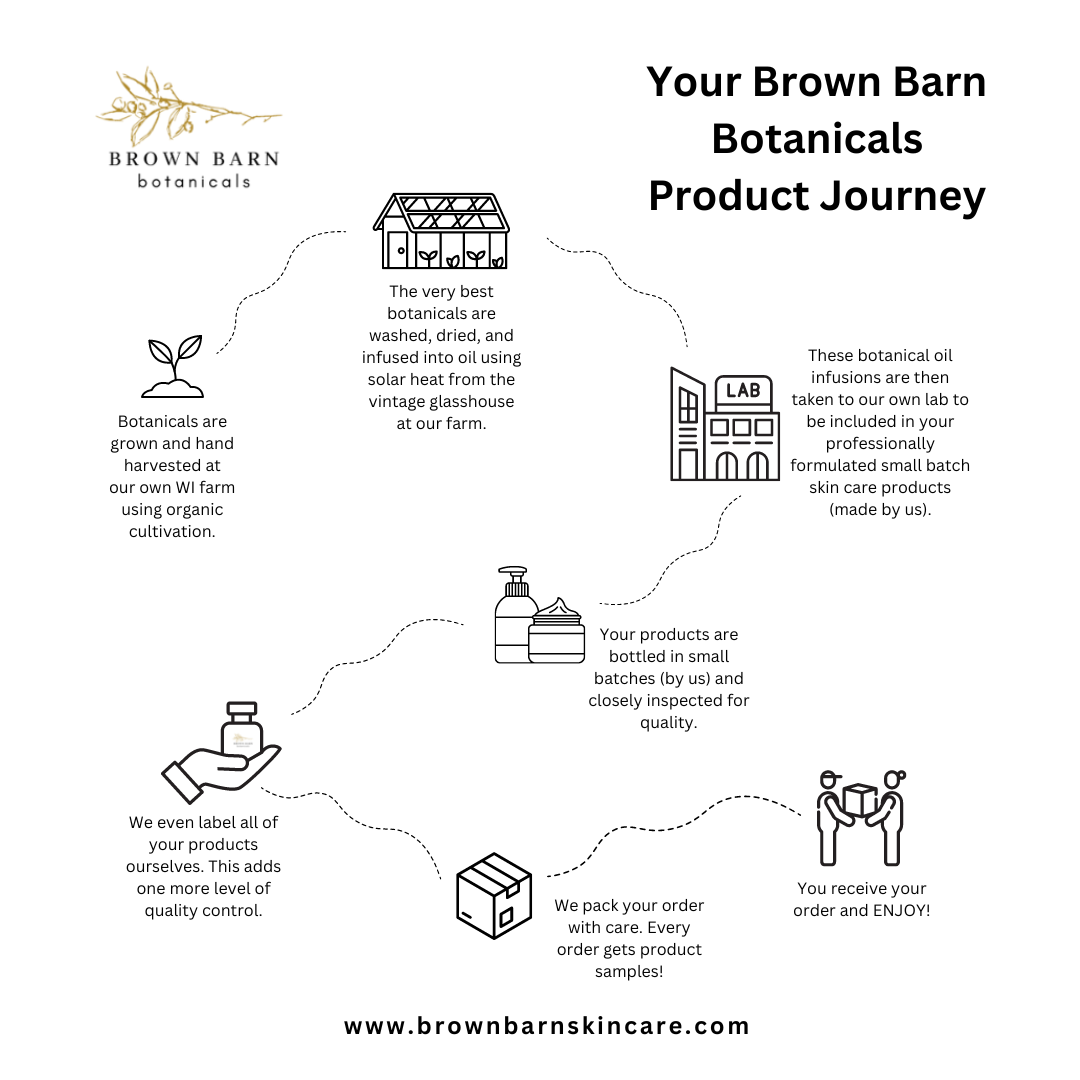 Brown Barn Products are...
Plant Based
Hand Made
SLS and Paraben Free
Free of Artificial Colorant
Phthalate Free
Cruelty Free
Our own Formulations
Made in Small Batches in our own Lab
Truthfully Labeled
Satisfaction Guaranteed
Formulating
Our formulations are designed by our own in-house professional natural formulator, Alyssa Van Doorn. All of our products are hand made in small batches at our own privately owned "green" lab in Holcombe, Wisconsin.

Formulating and manufacturing products in-house means we can oversee every aspect of manufacturing from the ingredients to shipping of each order.

Our formulations start with a few basic elements - seed oils, whole leaves, roots and flowers, essential oils, and natural derivatives. We rely on our education and many years of professional formulating experience to devise effective and efficient formulations. We do not rely on outside labs or chemists to create our formulations, we use what we know works best for skin care - fresh healthy plants, small batch oils, and professionally created derivatives.

Alyssa turns to her training as a Clinical Aromatherapist and Biologist in balancing the ingredients used in each formula. Alyssa ensures a balance of top, middle, and base notes is properly achieved when blending essential oils to ensure a beautiful and effective aromatherapy balance. She also carefully weights the ingredients so that the formulations do not use too much or too little of any ingredient. She ensures that the ingredients are balanced for optimum effectiveness and safety. Nothing in our formulations are there as filler or for "advertising" reasons, they are all active, dedicated ingredients that serve a specific purpose in the formula.

Once formulas are finalized, test samples are created. At Brown Barn we do not test on animals, we opt instead to test on human volunteers.

Once the formulation is finalized and tested, the ingredients are sourced in order to locate the best provider for each ingredient.
Starting at the Source
While most skin care companies source their ingredients from large supply warehouses, our sourcing starts close to home - at our own Wisconsin Botanical Farm.

Sourcing our whole leaf ingredients close to home translates to nutrient rich ingredients that look, smell, and absolutely vibrate with fresh, potent constituents. As Farmers, we know that the less distance a raw ingredient has to travel means the less time the ingredient must sit in storage. Less storage time means less chance of exposure to outside influences such as fumes, chemicals, contamination, pests, and other irritants that can break down and degrade the plant's potency.

While it may be more cost effective for us to source our ingredients from large commercial growers or foreign entities, we opt to stick close to home because leaving a small environmental footprint is important to us. Less ingredient shipping and transport mean reduced need for shipping bi-products, packaging waste, and fuel.

Only the very best suppliers and ingredients are selected to be part of our fine formulations. When choosing ingredients that cannot be sourced from our own farm we choose only to work with suppliers who meet our strict quality standards for cultivation and extraction practices. And always - no animal testing - cruelty free practices are required of all of our suppliers.
Green Crafted in Small Batches at our own Lab
All of our formulations are professionally crafted in small batches - by us - at our own chemical free lab in Holcombe, Wisconsin.

Each small batch is made with an eye toward a short wait time between batch production and sales, many items are not produced until a sale is actually pending to ensure fresh products and the longest possible use time for our customers.

Our lab maintains high standards for cleanliness, good manufacturing practices, and quality control. Employees are required to wear gloves and protective clothing, shoe, and hair covering to maintain the purity standards of our manufacturing area.

Once a product is made, it is hand labeled, inspected for quality control, and then shipped.

Questions? Just reach out to us anytime at customercare@brownbarnbotanicals.com!